Your Family Dentist
in Kitchener
KITCHENER DENTAL WELCOMES NEW PATIENTS
Commitment to Care
We are committed to providing a caring and welcoming environment and treat patients like family.
Convenient Location
We have a great location close to the highway with plenty of free parking and is wheelchair accessible.
Personable Team
We have a family-oriented team and are proud to have many long-time loyal patients.
Kitchener Dental provides general and family dentistry services for the Kitchener community. We take a gentle approach and use modern technology so you feel comfortable and at ease throughout your appointment.
We are pleased to offer family-friendly dentistry that works with your busy schedule. We are open longer on Mondays and Tuesdays for evening appointments, and earlier on Wednesday through Friday for morning appointments. Call to book your next visit today!
Family & General Dentistry
Services For The Whole Family

We believe that every time you smile, your confidence should show through. Our cosmetic dentistry options allow you to grab straight, pearly teeth and an extra boost of confidence!

Loose and damaged teeth are no match for the team at Kitchener Dental. We offer multiple options for full or partial tooth restoration to ensure your smile is always complete.

Meet Our Kitchener Dentists Near You
At Kitchener Dental, our dental health professionals know that it takes a village to keep your family's teeth in great shape. We have a diverse set of dental professionals working as a team to provide comprehensive care for each and every patient. This allows us to offer more services, so you can make Kitchener Dental your first and only stop for oral health care.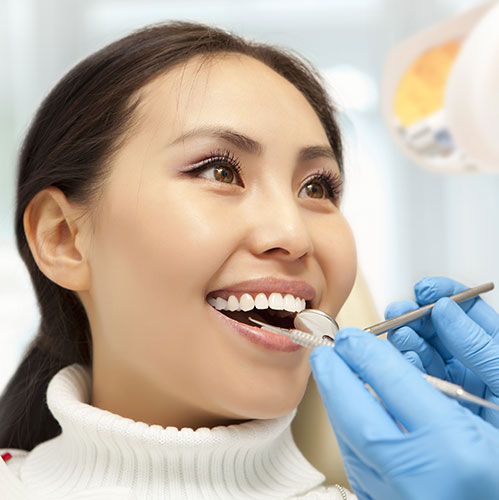 In The Heart Of Your Community
We are located right by Highway 8 in Kitchener on Weber Street by King Street East with plenty of parking. Find us near the BMO and Zehrs in the HiWay Centre plaza.
When Was Your Last Visit?
Take Care Of Your Oral Health & Book Your Dental Hygiene Appointment Today
If you are looking for a dentist with convenient hours and a high commitment to care, book your next visit with us today!