Dental Veneers in Kitchener, ON
Teeth come in all shapes, sizes, and alignments, which is why many patients come to our Kitchener dental clinic in hopes of creating a perfectly aligned, aesthetically appealing smile. Our talented dental specialists often treat crooked, misshapen, chipped, and discoloured teeth with durable porcelain veneers as a cost-effective alternative to dental crowns, providing a cosmetic and long-lasting solution.
How Dental Veneers Are Tailored to Suit Your Smile
At Kitchener Dental, we will create and apply your porcelain veneer over two appointments:
During your first visit, we will buff and shape your tooth to make room for the veneer before taking an impression to fabricate the veneer and choosing the perfect shade for your smile.
During your second visit, we will bond your custom-crafted veneer to your tooth to restore a beautiful, natural look.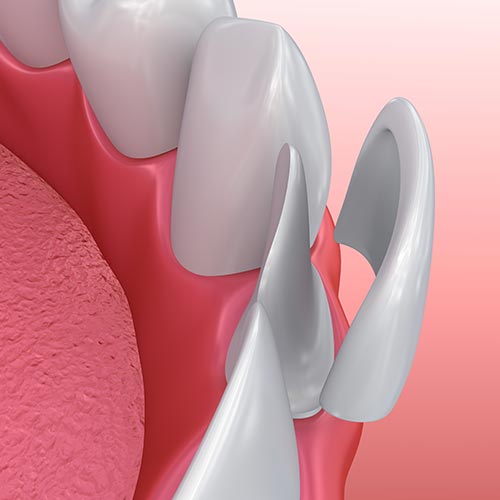 Restore Your Teeth to their Natural Beauty with Dental Veneers at Kitchener Dental
Porcelain veneers provide a minimally invasive solution for patients looking to restore the function of their teeth while cosmetically improving the natural look and feel of their smile. When maintained properly with regular brushing, flossing, and dental hygiene appointments, these veneers will keep your teeth looking great for many years.
When Was Your Last Visit?
Book Your Dental Appointment Today