Dental Bridges in Kitchener, ON
If you're missing one or more teeth, residual shifting can quickly cause the surrounding teeth to crowd into the empty sockets. A well-produced dental bridge can effectively fill these gaps, making shifting impossible. At Kitchener Dental, we offer various types of fixed dental bridges to replicate missing teeth, including implant-supported bridges that go beyond the gum line with artificial roots.
How Do Dental Bridges Work?
Our expert dental professionals at Kitchener Dental will assess your empty socket or damaged tooth to determine whether a traditional or implant-supported bridge is the right fit for your oral structure. Our objectives are function, comfort, and aesthetic appeal, which is why all of our dental bridges are created to replicate the look and feel of real teeth. Once yours is created, we will either cement it to your remaining teeth, to dental crowns, or to existing dental implants.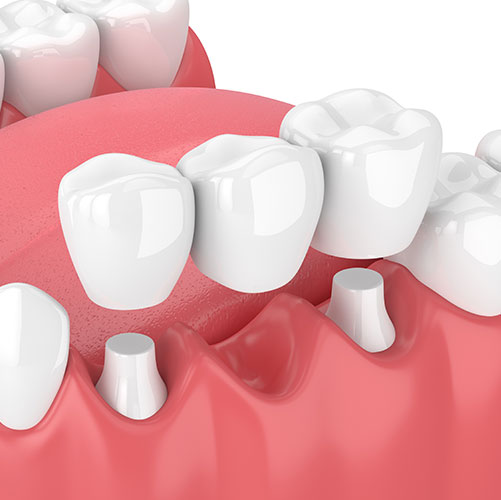 Bridge the Gaps in Your Smile at Kitchener Dental
Maybe you haven't thought much about your missing or damaged tooth, but leaving empty sockets can cause serious damage to your oral structures. Save your smile, speech, and digestion with an expertly crafted dental bridge. Our patients appreciate this cost-effective alternative to full dental implants because they can last a lifetime without replacement.
When Was Your Last Visit?
Book Your Dental Appointment Today